Fethiye, Çiftlik
Spacious Villa with Private Pool, Fireplace, Private Garden, Barbeque in Ciftlik Fethiye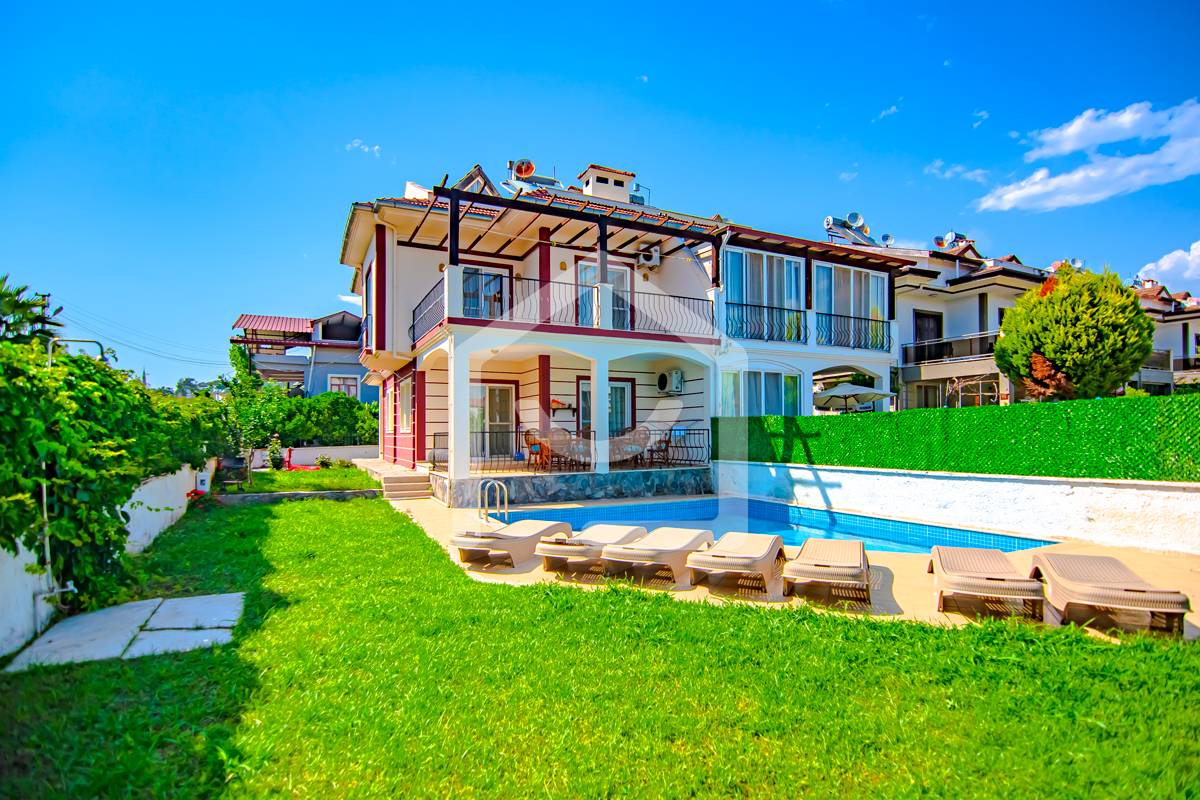 Listing Num. 2N7FN
All Photos
Villas with Private Swimming Pool
Contact Us
Smiling Guest Line

09:00 - 21:00 (GMT+3)
+902566221100

Send a Message
WhatsApp

Send a Message
Messenger
Description
Our villa is located in Ciftlik area in Fethiye, which has hosted various civilizations, has private pool, private garden, fireplace, parking area and barbeque. It is suitable for 8 people with its 4 bedrooms, 1 living room and 3 bathrooms- toilets. There is all the basic equipment in the kitchen. 3 bedrooms and the living area have air-conditioning system and one bedroom has a ceiling fan. Prices included periodic pool- garden maintenance and cleaning, Wi-Fi internet, bottled gas, electricity and water usage. You will have a pleasant time with your family and your friends in our villa that reflects the comfort of your home.

Pool dimensions: 6 m x 4 m Depth 150 cm

Cleaning fee is not required for stays longer than 7 nights.

All of the units are regularly cleaned and disinfected for insects and pests.
Availability
February 2023
Mon
Tue
Wed
Thu
Fri
Sat
Sun
March 2023
Mon
Tue
Wed
Thu
Fri
Sat
Sun
April 2023
Mon
Tue
Wed
Thu
Fri
Sat
Sun
May 2023
Mon
Tue
Wed
Thu
Fri
Sat
Sun
June 2023
Mon
Tue
Wed
Thu
Fri
Sat
Sun
July 2023
Mon
Tue
Wed
Thu
Fri
Sat
Sun
August 2023
Mon
Tue
Wed
Thu
Fri
Sat
Sun
September 2023
Mon
Tue
Wed
Thu
Fri
Sat
Sun
October 2023
Mon
Tue
Wed
Thu
Fri
Sat
Sun
November 2023
Mon
Tue
Wed
Thu
Fri
Sat
Sun
December 2023
Mon
Tue
Wed
Thu
Fri
Sat
Sun
January 2024
Mon
Tue
Wed
Thu
Fri
Sat
Sun
Amenities
Total Square Meter
190 sq m
Wi-Fi Internet Connection
Private Outdoor Swimming Pool
Garden View
Nature View
City View
Terrace
Garden/Yard
Sunbed
Fireplace
Barbeque
Parking Lot (Free)
Parking Lot
Air Conditioning
Dishwasher
Washing Machine
Refrigerator
Aspirator
Oven
Television
Kettle
Tea Maker
Iron
Ironing Board
Drying Rack
Hairdryer
Wardrobe
Couch
Dining Table
Baseline Kitchen Equipments
Rubbish Bin
Bedclothes
Bed Lining
Pillow
Pillowcase
Undersheet
Towel
Toilet Paper
Shower Cabin
Satellite TV
Kitchen
Living Room
Restroom
Bathroom
Not Suitable for Entertainment
Not Suitable for Handicapped
Not Suitable for Pets
Not Suitable for Social Event
Rules
Security Deposit:
100,00 €
If the guest cancels the reservation, the prepayment that was made is not refunded. In the event the guest cancels the reservation with less than 60 days remaining or fails to check in, the guest is liable to pay the total sum of the remaining reservation.

For changes in reservation dates requested by the guest, changes in the dates are made on condition that the house owner gives the approval. However, in situations in which the requested date gives rise to a change in seasonal prices, the change in price reflects on the reservation. This procedure is carried out free of charge at hovido.com.

In situations in which the advertiser cancels a reservation, in order to resolve any inconvenience sustained by the guest, the advertiser tries to offer an equivalent option to hovido.com guest reservations. In the event the guest does not accept the option, the sum paid by the guest is refunded in full.

Requests for reservations, cancellations and reservation changes are only processed if made by e-mail.

The number of people specified on the reservation constitutes the basis of the accommodation and exceeding the capacity is not permitted. In the event the bed capacity in a property is exceeded the house owner reserves the right to demand an additional fee or refuse to accept those exceeding the capacity.

At the time of entering the property a deposit of €100,00 against any loss or damage to the place of accommodation and the contents thereof is collected in cash by the house owner from the guest. In the event there is no damage on the date of departure, the sum of the collected deposit is refunded in cash by the house owner to the guest.

Electricity and water consumption is included in the accommodation fee.

The remaining sum of the payment may be made on entering the accommodation only in cash.

The rules that must be complied with during the accommodation are clearly stipulated in the guest accommodation contract approved by the guest when making the reservation request. Guests are obliged to comply with these rules.
Location
Haritayı İncele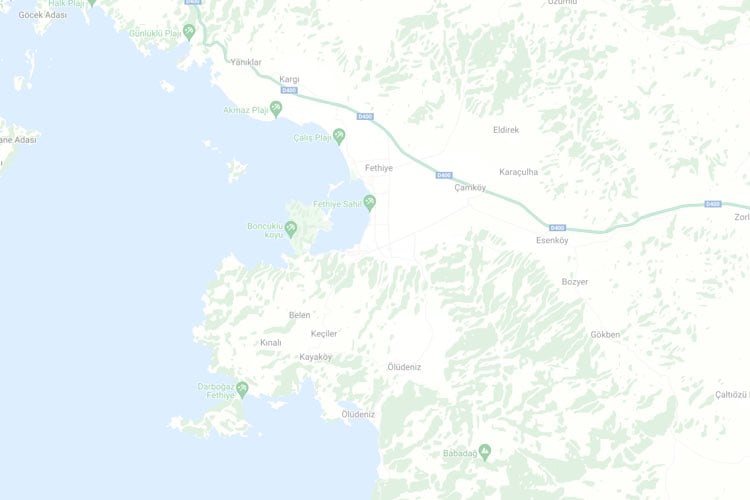 Guest Reviews
Atıl E.
August 2022
3
Villa Defne, fotoğraflarda göründüğü gibi. Odaları yeterli ve imkanları tatmin edici denilebilir. Bir kaç kusuru vardı, aşağıda listeleyeceğim, ancak bunlar tatilimizin tadını kaçıracak veya pişman edecek türden sıkıntılar değildi. Yine de yeni gidecek misafirlerin bilmesi gerektiğini düşünüyorum: 1- Konumu neredeyse bir köy içinde. Bu mevki denize nispeten uzak olduğundan yavaş yavaş gelişiyor. Zaman zaman sabahları ördek viyaklamaları ile çok erken uyanmak zorunda kalınabilir. Ama komşulardan bize karşı ne bir şikayet ne de bir rahatsızlık olmadı. 2- Evin elektriği ile ilgili bir şeyler yapılması gerekiyor. Çok fazla voltaj düşümü olduğundan verandada neredeyse karanlıkta oturmak zorunda kaldık. Bize söylenen elektrik dağıtım şirketine haber verildiği, onların aksiyon almasının beklendiği şeklinde. Ama gözlemim bu villa haricinde bir sorun olmadığı şeklinde. 3- Klimalar dertli. Çatı katında çok tatlı bir oda var, ancak kliması çalışmıyor. Çok ısındığından dolayı cehenneme dönüyor. Elektrik probleminden dolayı arızaya geçtiğini söylediler. Salondaki ve diğer 2 odadaki klimalar çalışıyor. Ama bir odada klima dahi yok, tavan vantilatörü ile serinlemeye çalıştık. 4- Havuz küçüktü ama bize yetti. Zaten kısıtlı sürelerde villada kaldık. Ayrıca tüm gün kulaç atacağımız bir havuz beklentimiz de yoktu. Her gün de temizliğe gelindi. Ancak sebebini anlamadım ama son 3 gün temizlikte aksama oldu. 5- Veranda doğuya bakıyor. Bu yüzden hiçbir sabah kahvaltıyı verandada yapamadık. Hatta güneş tepeye çıkana kadar verandada oturamadık. 6- Özelliklerde barbekülü denmiş, ancak çok bir beklenti olmamalı. Fotoğraflarda görünen mangal var. Ama 1 gece mangalda köfte pişirmemize yetti. Ama 8 kişilik villaya daha büyük bir şey yapılabilir. 7- Mutfak eşyaları biraz zorladı. Fırın vardı ama tepsi yoktu. Borcamı dönüşümlü kullanmamız gerekti. Tencere eksikleri vardı. Yine de tüm mutfak eşyaları temiz ve sağlamdı. 8- Bölgede alışveriş imkanları çok fazla. Büyük market yok, ancak akşam 23:00'e kadar açık bir Şok market ve 2 adet A101 vardı. Ayrıca bir yerel market ile pide, kebap ve pizza mekanları vardı. Hem ucuz, hem de lezzetliydi. Bir de Çiftlik'in girişinde bir ekmek fırını vardı ki, en iyi kısmı burasıydı sanırım. 9- Burası Fethiye'ye de Göcek'e de eşit mesafede. Çalış plajı çok yakın ama bize çok hitap etmedi. Ölüdeniz'i tercih ettik. Çalış, parasailing veya kite surf yapmak isteyenler için birebir. Hem rüzgar çok, hem de açık. Şikayet ediyor gibi görünmüş olabilirim ancak genel olarak tatilden memnun kaldık. Kalabalık ailemiz için fiyat/performans olarak çok yeterliydi. Recep Bey ve Murat Bey'e teşekkür ederim.